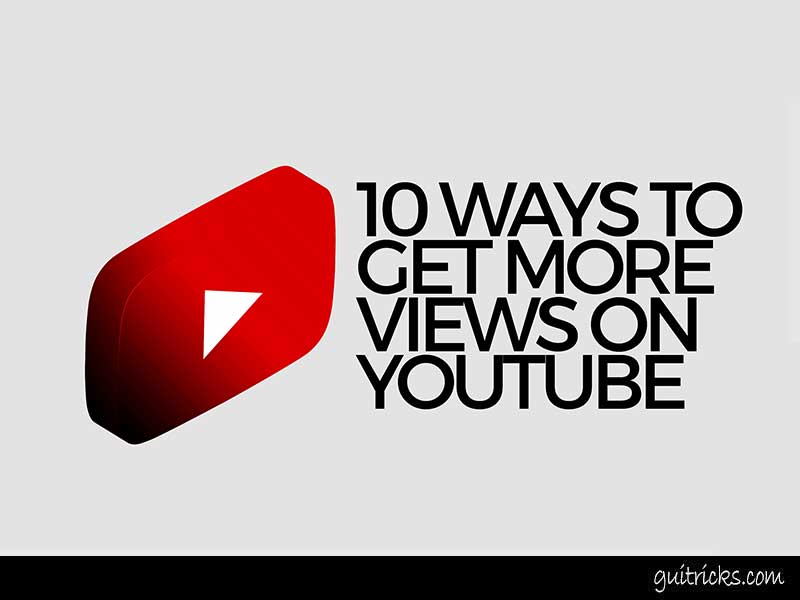 Struggling to get the youtube views on your channel that you desire? Then we have some clever techniques that might help you reach your goal. Read the blog till the end to learn some yet effective YouTube marketing tips.
Youtube has more than 1.7 billion monthly active visitors. After Google, Youtube has now become the second-largest search engine in the world. As a matter of fact, YouTube is one of the most powerful tools for your business. And can drive immense sales for you.
But here's the catch. To get more sales, you need to get more views.
If you're a creator or a business owner who is struggling to get more views and drive sales, then you're at the right place.
In this blog, you will learn how to get more views on YouTube.
1. Embed Your Youtube Channel To Your Website
Youtube has more than 51 million content creators, and with that, there might be a chance of your channel not reaching your potential viewers. One of the neat ways to reach your potential viewers is to embed a
YouTube channel widget
on your website. Easy-to-use tools like social media aggregators allow you to embed youtube videos on a website without having to code. You can also choose the best videos you want to display on your website. With this strategy, you can always have a great impression on your website visitors.
2. Create A Playlist
A Youtube playlist is a group of videos that the channel owners create. Having a youtube playlist makes it easier for the viewers to find the videos they want to watch. It might also help to get the top spot on Youtube search results.
3. Live Stream and Interact With Your Subscribers
YouTube likes to see engagement in terms of likes, shares and live streams. Live streaming will help you reach your content to the audience who wouldn't reach it otherwise. It has greater potential than all the other features of YouTube. One of its reasons is that the audience likes to see the real human touch.
4. Engage with Your Existing Viewers
Channels with 500 subscribers have access to Community posts on YouTube. With community posts, you can engage with your existing viewers. This also helps your potential viewers to find your channel. You can also interact with them in the comments section. This makes your brand even more approachable.
Apart from that, having more comments on your Youtube channel boosts the reach of your channel in terms of Youtube's algorithm.
5. Collab With Creators Of Your Niche
Collaborating with Creators or influencers
brings traffic
to your youtube channel. Influencers are basically the celebrity of the niche. They know how to drive viewers to your channel. Moreover, they can also get your brand trusted by their audiences.
Conventional marketing is time-consuming and expensive, but collaborating lets you save time and money.
6. Custom Thumbnail
A custom thumbnail is what decides how your audience is going to perceive your videos.
You get only a few seconds to catch the attention of your potential audience while they are scrolling on Youtube. The key formula is to use a 'BOGY' thumbnail. BOGY thumbnails are made by using four colors - Blue, Orange, Green, and Yellow.
7. Create Content Regularly
If the content is the king, then consistency is, surely, the queen. Posting relevant content on a regular basis builds an online presence. It also establishes the authority of your brand and generates awareness.
8. Ask Your Viewers To Subscribe
Asking your viewers to subscribe is not as easy as it sounds. You need to know the right balance between your content being relevant and adding value to your viewers' life. You need to be very creative when asking them to subscribe. Getting subscribers will automatically boost up your channel and bring even more views.
9. Use Hashtags
Hashtags are used to identify a specific type of digital content. Adding hashtags increases the searchability chances of your videos. A solid hashtag strategy will give you more visibility on YouTube and Google. Moreover, it helps the viewers to find your content easily.
10. Use Subtitle
Adding subtitles to your videos makes them
SEO friendly
. As a result, your video is ranked higher by Google. Another benefit is that subtitles make it flexible for your viewers to watch your video. Your viewer may be in a place where the audio isn't accessible. In such situations, a subtitle will help them to watch your videos without any interruptions.
Conclusion
Getting views on YouTube requires time and patience. It is not limited to creating a video and posting it online. It requires a solid content strategy and placing your content in the right place.
There's no shortcut to it.