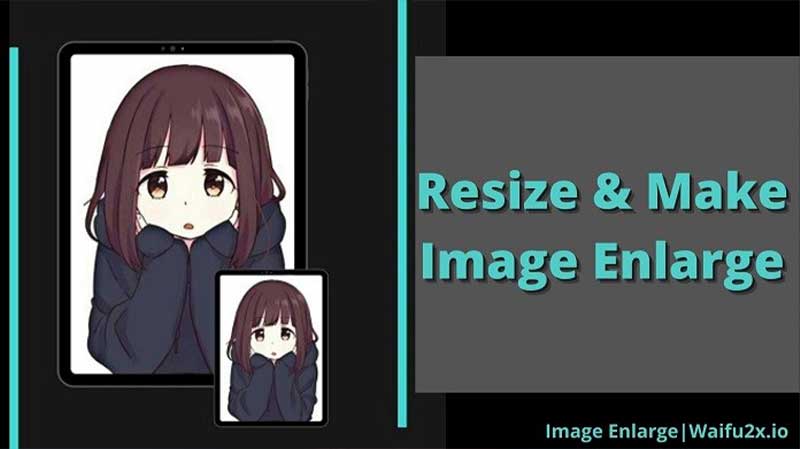 Introduction
Have you ever tried using Photoshop to magnify an image? If yes, you must have discovered that enhancing an image directly impacts its quality while making it blurry and amateur.
When an image is magnified, it is possible to see the thousands of pixels that make it up. As a result, you will get a poor and unattractive result. There's no denying that Resizing an image can be tricky because decreasing or increasing the size of an image affects the number of pixels. The higher the number of pixels, the lower the image quality.
Several techniques are available to resize an image without sacrificing quality. However, there's a loophole to everything, which is no different. This guide has summarized how to resize and enlarge an image without putting its quality at stake. So, without any further wait, let's get into it.
Why Do We Make Image Enlarge and Resize Image?
So, before you get into the process, let's first understand the need to resize the image. When we need to concentrate or highlight a few key characteristics of an image, we utilize image enhancement.
The purpose of image enhancement is to increase the usefulness of a photo for a job, such as generating a more aesthetically acceptable image for human viewing. When you resize an image, use the correct tool for the job. For example, if you are changing the size of an image, use the width or height fields in the media library and if you are modifying its proportions, use the crop tool.
Different Methods To Enlarge Image or Image Resize
There are plenty of methods to enlarge the image, and you should pay attention if you work with image sizes regularly or edit photos frequently. Although mastering the programs takes more time and effort, they yield better and high-caliber results.
So, let's get started!! Let's look at resizing images using the most popular image editing applications. You can choose any of these based on your needs and get an excellent result in the least possible time.
Method 1: Enlarge Image Using Free Tool Waifu2x
Waifu2x
- the name needs no special introduction. Waifu2x is an image resizer and noise reduction application that users can use to increase the size of their photographs.
This API still performs well on images and other types of imagery, even though it is made up of the training data. It upscales photos while lowering image noise to keep the final quality intact. The tool has derived its representation from the "waifu" anime-style artwork that served as the foundation for most of its training.
Follow the steps mentioned below to use the tool properly:
The first step is to upload the required image by clicking on the Select Image option. This will help you browse different locations from where you can find the desired image to upload.
Once you are done with image uploading, choose among different options for noise suppression, namely None, Low, Medium, and High. Select one, hop on the scale, and change the number from 1x to 10x.
Check to see that you choose the appropriate selections, and then click the Convert Now button to make the image enlarge.
Select the image format and get the image in a larger size with high quality. Pick the appropriate style based on your requirements.
Method 2: Enlarge Images Using Irfanview
A small and cost-free photo editing application is Irfanview. It offers a more intelligent way to resize and enlarge photographs, but it is only compatible with Windows-based operating systems.
When enlarging, you can choose to apply sharpening to the image after resizing it, examine a resample, and choose your new image size. Its compatibility with Windows 10 is one of its best features.
Here's the step-by-step procedure to use this image enlarger appropriately.
Open the tool in the web browser of your choice and select Image to Resize/Resample.
It will open the pop-up window for resizing images. In the "Set new size" area, you must specify the width and height of the photo that you want to use.
Then, under the "Size method" section, you must choose "resample." From the drop-down menu for filters, select Lanczos (slowest).
Finally, after resampling, tick the box next to "Apply Sharpen After" and press OK.
The image will now be resized, and you can save it to your PC at this point. Easy, isn't it?
Method 3: Enlarge Images Using A Premium Software
While you can resize an image using the free software, plenty of premium options are available to get the job done with much better quality and several other features. The best premium software you can use is Adobe Photoshop CC. It is available only through a creative cloud subscription that you can pay monthly or annually, depending on your budget.
With Adobe Photoshop, you can create professional-looking photos or graphics. This tool allows users to manipulate images by adjusting their color, brightness, contrast, and saturation. They can also add special effects like blurring or cropping.
Here's how you can use this image to enlarge easily.
First of all, select the image you want to resize.
After that, you can choose from several web and print sizes or manually add the width and height number. You can also adjust the aspect ratio of your image.
Now, click the button to resample the image and tap on the OK button to save the modifications you have applied to your image.
What Is The Difference Between Resizing Images and Scaling Images?
When you resize an image, you are reducing its size. Scaling, however, is a process of enlarging an image without changing its resolution. In other words, you are not losing any detail in the image when you scale it up.
Resizing an image means you are creating a copy of the original image and saving it in a different size, but when you scale it, you are changing the size of the entire image and not just the parts.
There are three common scale factors: 100%, 50%, and 25%. If you want to keep the ratios of an image while scaling it, use a scale factor of 100%.
Is Image Losing Quality When It Enlarges or Resizes?
Yes, there will be an image quality loss when you make the image resize or enlarge. The image editing software decreases or enlarges these pixels to resize an image. Your image will be much smaller and transparent if you resize it to a smaller size and back up again, and you won't get the original back when you resize the picture to its original size. However, specific tools keep the quality loss to a minimum, such as Waifu2x.
Conclusion
That's it, folks!! We hope you have appreciated reading the article and found it helpful. People who utilize digital images for various purposes resize and enlarge their photos. If you are one of those individuals, carry out the process carefully to keep the final quality intact.
Choose the enlargement software solution that best suits your demands, and utilize some of our ideas for enhancing enlargement quality to meet the greatest expectations for photo editing.