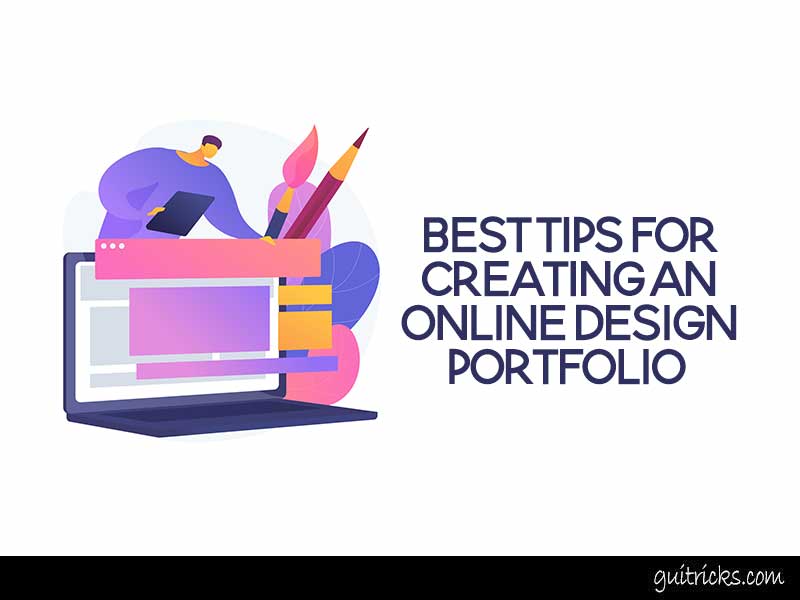 Building a strong portfolio is essential for attracting new clients and expanding your business. Your portfolio reflects who you are, what you have done, and what you can do for your clients. An online portfolio is a great way to attract new customers, so put your best foot forward.
A portfolio is a collection of your work, services, or products. A great online portfolio can benefit a graphic designing agency, and many other firms. This article will walk you through nine simple steps to help you create, develop, and market your portfolio online.
Have A Clear Vision
Your online portfolio, like any other project, requires a clear set of objectives. Once you've decided what you want to do with your online portfolio, you can start planning the steps you'll need to take to get there.
Remember that your portfolio is your first and best impression to the world as a creator. They are used in a variety of ways and reach a wide range of audiences. Potential employers or future clients may view your online portfolio website.
This is all about your mindset; it is what distinguishes you as a creative professional. If you want to work for others, first demonstrate that you can work for yourself.
Be Deliberate and Selective
Picking out exactly what you want to say and how you want to say it is an important part of the creation process.
Begin with a broad vision of what you want to say and what you want the world to know about you. Always ask yourself, "Does this assist in communicating my vision?" If an artwork or image does not contribute to the story, it should be removed.
The most important aspects of this strategy are a clear understanding of who
you're marketing
to and the best ways to do so. Moving forward with your planning, you'll have a better idea of who your target audience is and will be able to speak directly to them. Take a look at these online portfolio examples for ideas.
Some portfolios aren't designed with potential clients or employers in mind, but rather to share work, receive feedback from peers, or show friends and family.
Select The Best Online Portfolio Website Template
The first step in making your online graphic designing portfolio website look unique is to carefully define the look and feel of your site. The online portfolio template you choose will be heavily influenced by the works you wish to highlight.
How many images would you present?
What would the structure of your online portfolio look like?
What kinds of galleries do you intend to create?
Will you be uploading any videos?
How many words do you have?
If there is one thing to remember when selecting a template, it is that less is more. Look for portfolio templates that can adapt and grow with your needs and are simple to update later. The best ones leave you with the impression that there is no other template in the world that would work with your artwork.
Display Your Best Work
Once you've determined what you're marketing and who your target audience is, it's time to craft your pitch. Your pitch consists of a small selection of your best work from your online portfolio website. You must complete your work while pretending to be the audience - this is not an easy task.
Always ask yourself, "Does this piece help me tell the story I want to tell?" and "Does it help me achieve the goals of my website?" If you do use something that is a few years old, make sure it still matches your current style. If you're a photographer, go back to the original file and update it. You want your gallery's images to all have the same look and feel.
Customize Your Website
Begin with the fundamentals: your domain name and brand logo. You can get a custom domain name for a few dollars a year, and the authority it will give your marketing is well worth it. You should make sure that your website uses your custom domain name.
Having a well-designed logo that represents you as a brand also helps to establish you as a professional and improve your credibility.
Please Describe Your Creative Process
Go beyond simply displaying your work and let your audience in on your creative process. This will undoubtedly demonstrate the person behind the work, but it will also demonstrate how you complete real-world projects.
Consider it from the standpoint of a potential client who has reviewed several Graphic designing portfolios. How will they decide who to hire? They'll go with whoever they believe will do the best, most professional job for them. You can gain their trust and confidence by demonstrating the process in detail. Videos or tutorials, as well as blog posts that break down a specific client project, are excellent ways to demonstrate this.
Make It Your Own
Your online portfolio website, as a creative professional, represents you and your personality. When creating an online website, getting the tone and vibe right should be a major consideration. You must strike the proper balance so that your website visitors can connect and appreciate not only your work but also with you on a personal level. You must also present yourself as a professional who can be relied on to complete the job on time and within budget.
Tell us about your experience. Display the person who created the work. Soft people skills are the most important aspects of landing a job/client. Show a little bit of your fun side in your portfolio, just enough to communicate that all of this fantastic work is being done by a real person behind the scenes.
It's a good idea to include an About page and a blog on your website. Make it simple for customers to contact you through your website. A great sales page should always include some sort of call to action. Include it in a creative and catchy manner, and make it simple for them to do so.
Please Spread The Word
Your portfolio website is a marketing tool to some extent; make sure you follow through and get it out there. Several creative portfolios are intended to generate sales leads and establish the creator's brand. Make sure to share your website address at every opportunity. Include it in the profiles of your social media accounts. If you participate in forums, include your website in your signature line. Include it in emails and on business cards. Make it your goal to get everyone to visit your website.
Make Your Online Portfolio Website Search Engine Friendly
You want your website to appear high in search engine results. All text on your online portfolio should be search engine optimized. You should conduct some research to determine which
keywords you want to rank high
for.
Including a blog on your online portfolio website is a fantastic way to boost your search engine rankings. It adds value for your clients and demonstrates your personality as a person behind your work. Blogs can include a variety of long-form keywords, which can help you rank higher in search engines.
Conclusion
There are numerous approaches to developing creative online portfolios, each with advantages and disadvantages. You can custom-code your website from the ground up or use do-it-yourself website builders. There are numerous graphic designing agency available that are designed to make the process of creating a great-looking portfolio website simple and do not require any coding knowledge. Make certain that the website builder platform you select includes all of the features you require to showcase your skills and talent.