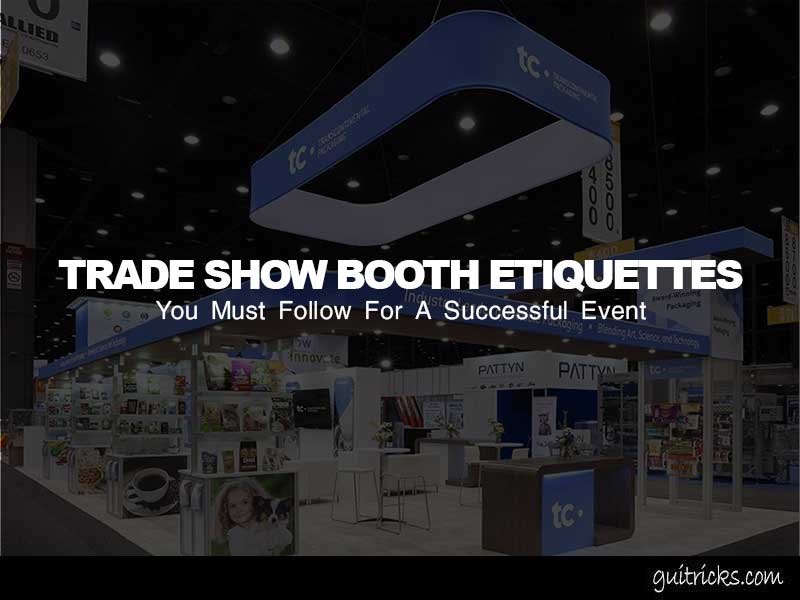 Trade show exhibitions are an integral part of marketing and advertising. It helps attract a target audience, generate new leads and elevate revenue. Although there are numerous ways to host the show, setting up the booth remains constant. So, whether you are selecting a 10' by 10' backlit display or a 59' x 101' fabric banner stand, there are a few things and etiquette to be more specific that need to be followed.
When the host of the show and staff are well trained, it helps create a lasting impression on the minds of visitors and promotes customer engagement with the brand. Still, many business owners or marketers overlook these etiquettes that later affect the success of their event. If you wish to have a successful event, you must abide by these trade show booth etiquette.
Booth Setup And Maintenance
First things first, you must focus on the setup of the booth and its maintenance. Your booth must be well organized with a clear display of the product you are promoting. The design or graphics on the table cover, banners, and counter should be eye-catchy with a visible company logo. If you are using
trade show displays
, make sure they are easy to assemble and highlight the company product. Opt for the display that helps grab the attention of your audience.
In addition to this, make sure to have a hidden spot for all the supply boxes and trash. A clean, well-lit, and the organized booth is most likely to offer the marketer desired return on investment.
Engaging Attendees
After your booth is set up, it's time to attract the attendees and keep them engaged with your brand. Consumers go to trade shows for a cause, so booth employees should swiftly introduce themselves and start asking attendees questions to see if they can assist them in any way. This is where preparing a script for a greeting or introduction might help.
Most individuals who visit a trade exhibition have a legitimate interest in learning more about your products and services, so make sure your staff gives them a quick rundown of the script and is prepared to continue the conversation and
engage the client
from there. To establish a connection with visitors and determine their requirements, staff should also be ready to ask open-ended inquiries.
Defines Staff Roles
Staff at trade shows should be assigned to a specific region of the exhibit and should be able to communicate vital company information to visitors. Some businesses even give employees a customizable welcome and sales script so that everyone on the team can offer a uniform, refined, and effective message to guests.
Aside from the sales script or
elevator pitch
, firm employees should be able to answer simple queries or direct visitors to additional resources. At least one person with the experience or authority must always be in charge of the booth. That person should be available to provide excellent services to attendees.
To Sum It All Up
These are a few etiquettes that can help your company and product booth stand out. Know that when customers interact with a brand during trade shows and exhibitions, they formulate a mutual connection and understanding. It helps businesses find loyal customers and get a lead over the competition, eventually having a successful event.