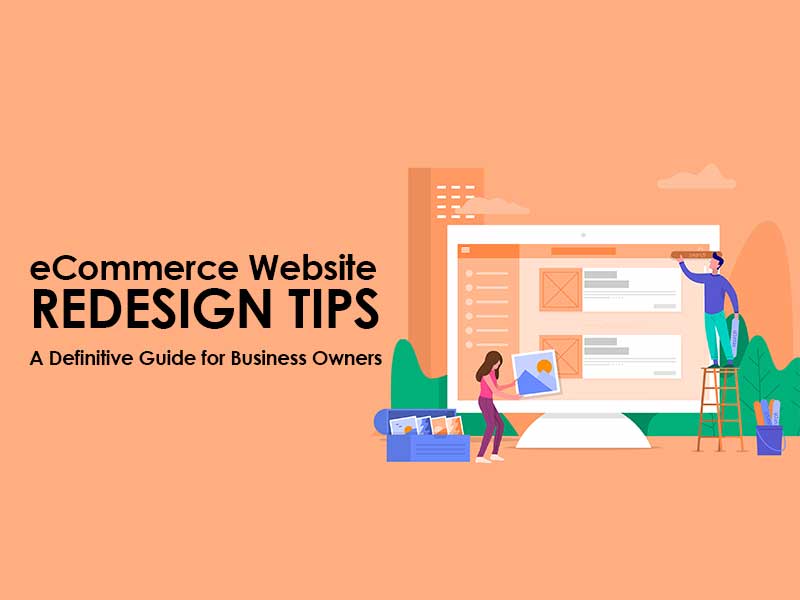 The top priority of an eCommerce business is a website. The online presence is a powerful marketing tool that can encourage target audiences to engage with eCommerce businesses.
According to
Markinblog
, there are more than 26 million eCommerce websites in the world currently.
This statistic proves the cutthroat competition in the industry of eCommerce. Keeping this aggressive competition in mind, it is salient that eCommerce businesses have a robust website design that can effectively convince their target audience to engage with them.
If you already have a website design that is not working out for you, here are some tips to redesign your website:
1. Use of Powerful Images
An eCommerce website is different from other websites. It needs something unique and special to fill the space and content that can encourage people to conduct business with them.
Images are a great way to attract your target audience. An eCommerce website does not possess plenty of space. This makes it difficult for eCommerce owners to fill the space with the most relevant and specific content.
The varying type of content presented on the website includes images too. Your images should be of high quality and optimized to drive more traffic to your website.
Images are the most important element of your eCommerce website. They are essentially the first thing that attracts your target audience to visit your website. Your target audience will read the descriptions of the products later, first, they will see the images. For this, you must use images that provide a descriptive view of the product.
You can also use a slideshow that can include 4 to 5 images with different angles. This way, your visitors will be able to see the product from every angle.
If you are not equipped with the right skills to use the right images for your website, you can hire an eCommerce web development company that will help you expertly.
2. Make it Mobile Responsive
The world is revolving around mobile devices today. Everyone is focused on using their phones more than any other device. They interact with almost everything on their mobile phones only.
This means that people also interact with businesses on their mobile devices. They browse and buy from businesses using their mobile phones. This provides an opportunity for many businesses to reach their target audience on their phones.
For this, your eCommerce website should be mobile responsive which can provide a seamless experience to your target audience.
According to
Statista
, mobile devices are responsible for driving 54.8% of global website traffic during the first quarter of 2021.
3. SEO Is Important
Search engine optimization is the process of optimizing the content of your website so that it becomes more visible to your target audience and can drive more traffic. As an eCommerce business, the focus should be on using relevant keywords and interesting descriptions of products.
Your website should include the most relevant keywords that are popular in your industry. This will optimize your website to rank well on search engine results pages. Putting efforts into SEO always yields great results for businesses as it is one of the primary digital marketing tools.
Through SEO, you will get more exposure, improved ranking, increased and refined traffic, etc.
Any eCommerce development agency can help businesses effectively implement SEO strategies that will fit their specific needs.
4. Appealing & Engaging UI/UX Design
Your website should have an appealing and easy-to-navigate UI/UX design. When your target audience visits your website, they should have a great experience when they interact with your business.
The look and navigation of your website matter a lot in convincing your target audience to interact with your business. If your website is not attractive and easy to use, it will fail to satisfy your target audience.
The concept of UI/UX includes but is not limited to visual elements, colors, themes, fonts, navigational elements, buttons, user experience, etc.
You need to make sure that the page loads effortlessly and in no time, the checkout process is easy and swift, the search feature is prominently present, the navigation option is clear, fonts and colors are clean and simple, etc.
According to
Top Design Firms
, almost 38% of users consider the quality of the page layout and navigational links of the websites.
5. Popular Products At The Top
There must be some products in your store that are popular among your target market. These products are sold more and are in demand by your customers. You need to put these popular products at the very top and the center of your website.
You should make these products a bit more unique than your other products so they are highlighted. You can differentiate them with a different color, change the size of the images and layouts, etc.
This way, any new visitor to your website will immediately know that these products are your most popular and sold ones. It will help you in selling your products more and gain new customers.
6. Up-To-Date Design
The technological world is evolving faster than ever. Every day some new technology or feature gets introduced and the previous practices become obsolete. Your eCommerce website design should be modern enough to keep up with the changing trends and needs of your target market.
Having a traditional and old website design will result in frustrating your target audience and they will not interact with your business. You should constantly study the new trends and make necessary changes to your website to ensure that you are providing the best quality to your customers.
According to
GoodFirms
, approximately 38.5% of web designers believe that an outdated and old design is the reason that users leave a website.
7. Scannable Content
A unique feature of your website can be scannable content that can facilitate your target audience in swiftly using your website.
Nowadays, people do not have too much time on their hands to browse through hundreds of websites and their content to find their desired products. They want quick solutions to their answers.
You should add a scanning option on your website that will help your website visitors in scanning your site and find exactly what they are looking for. Try to use big and prominent headers and segregated sections to help your audience in finding their required products.
8. Correct Pricing
The eCommerce industry is littered with hundreds of eCommerce sites selling the same products more or less. They are all fighting in the same industry. The only difference can be their customer service or pricing.
When there are too many suppliers of the same product in the market, it becomes a threat to the businesses as the power lies with the buyers. Buyers can choose any supplier and they have control in the market.
Here, you can get ahead of the competition by listing the correct prices of your products. You should not sell your products expensively as your target market will immediately turn towards your competitors. Also, you should not sell your products cheaply as it will also tarnish your reputation and your target audience will wonder why you are selling your products at a lower price.
Your target audience can question the quality of your products. They will be reluctant to shop from you for fear of getting bad quality products.
The only way to shine here is by mentioning the right prices of your products. You cannot win in the market by lying or cheating your customers. Your customers will not be able to see the total amount until they complete the whole checkout process. But you can minimize the shock by not listing any hidden fees.
Many eCommerce businesses struggle with expertly developing and designing their website. In addition to this, startups specifically suffer because they are new in the market. They are not adept with the required acumen and skills to effectively design their websites.
For this very reason,
eCommerce development company
USA helps businesses by accurately studying their businesses. Then they develop and design the websites according to the specifications of the businesses and their target audiences.