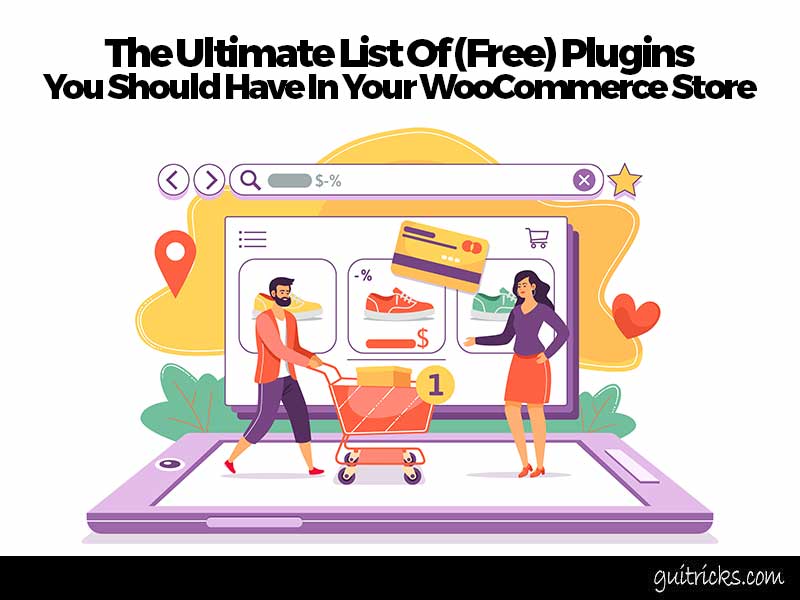 There are a lot of plugins available for WooCommerce that can take your WooCommerce website to a whole another level. They can add functionalities to your store that you did not think that you needed. They can improve the customer experience on the website and bring in more conversions to your store. Below are some of the plugins that you should have, or probably already have, in your WooCommerce store.
MARKETING PLUGINS
Marketing is an essential part of running an e-commerce business. It is no secret that having a cool store and amazing products is not enough. You need to get your hands dirty with marketing for these products to reach the hands of the customers.
Below are some of the best marketing plugins for your store:
Yoast SEO

SEO is one of the key drivers of quality traffic for any e-commerce site. For WordPress, this task is made simple by one of the best SEO plugins,
Yoast
. Yoast takes care of pretty much a lot of the SEO tasks on your WordPress website for you. It gives you a lot of options to optimize the content of your website and provides feedback and suggestions on how to improve the content of your website.
Yoast has a dedicated
WooCommerce SEO add-on
to assist you in optimizing your WooCommerce website as well. But that comes with a premium price.
Smart Coupons for WooCommerce

Smart Coupons for WooCommerce is a
WooCommerce coupons plugin
that extends the inbuilt coupons functionality. It adds more features to the coupons features so that the store owners can create coupons that can maximize their conversions.
When it comes to running a coupon campaign, you must put proper restrictions and coupons rules in place to maximize the ROI. You need to create coupons that will entice the customers but at the same time do not come at a cost to you. Smart coupons for WooCommerce plugin provides features that you can use to run creative coupon campaigns.
Email Subscribers & Newsletters - Simple and Effective Email Marketing WordPress Plugin

Email marketing is a powerful tool for you to have in your WooCommerce store. It is best to start building an email subscribers list right from the get-go when you launch your website. But if you have not still, nothing's too late. This
email newsletter plugin
will help you in building an audience for your website and sending effective emails for marketing purposes.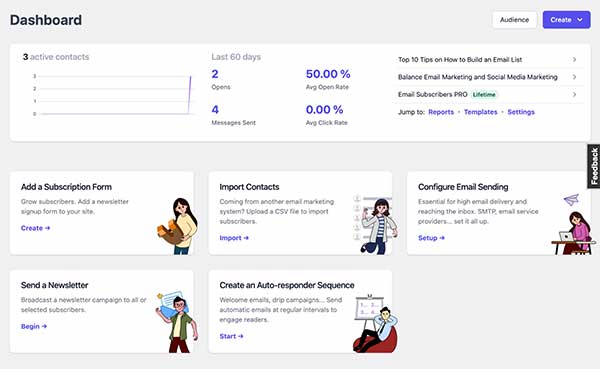 This is a very powerful plugin to create an email marketing campaign with a ton of features. The plugin has an easy 3 step setup process, after that, all you have to do is configure it to suit your email marketing goals. The plugin will let you create forms, monitor your campaigns, get insightful reports, customize your emails with the ease of drag and drop feature, and more.
STORE ENHANCEMENT
These are the plugins that can help you create a better experience for your customers when they visit your website. A better customer experience will bring more conversions to your website.
Variations Swatches for WooCommerce

WooCommerce allows you to create variable products on your website. For the variable products created, the product variation attributes are shown as dropdowns. This is not always ideal since the users will not be able to see all the variations available for the product at the same time.
This is where
Variations Swatches for WooCommerce
helps. The plugin shows all the variations in a beautiful and customizable manner that allows the user to select from the variations easily.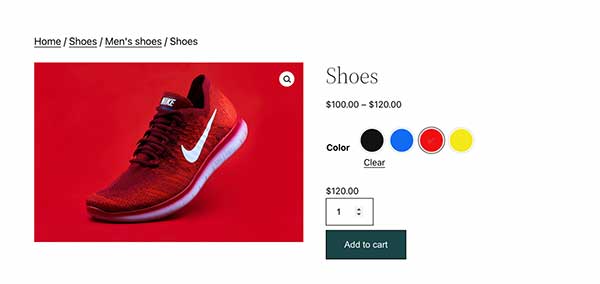 There are different types of swatches that you can create using the plugin. They include - image variations, color variations, label button variations, and radio variations.
Depending on the type of product that you have and how you want the variation to appear, you can select any of these and then customize it further with the options provided by the plugin.
Decorator - WooCommerce Email Customizer

If you have been using WooCommerce for a while, you should know that WooCommerce default order emails have a standard design. It does not give many options to customize these emails. This can be a disadvantage when you are trying to bring your brand's identity to the emails that you send. An email customizer plugin can help tremendously in such cases.
Decorator -
WooCommerce Email Customizer
plugin helps in customizing the WooCommerce order emails that you create. You can customize the emails based on the status of the emails. The plugin has the same customization interface as that of customizing a WordPress theme. This makes it easy to use.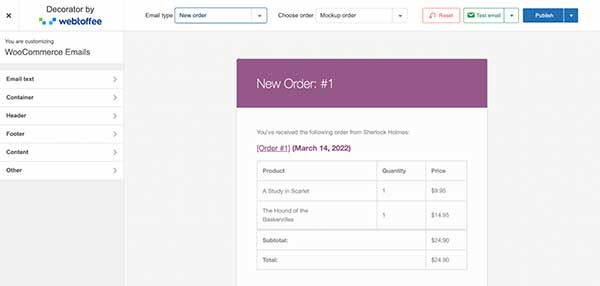 After you have made all the customization, you can send a test email to check if all the changes are working fine or not. When all is done and good, you can go ahead make it all go live.
YITH WooCommerce Ajax Product Filter

To improve better customer experience in your store, you should make the products of your store easy to reach for your customers. This can be difficult if you have a lot of products in your store and multiple categories.
This is where you need to have a product filter section on your website. YITH
WooCommerce Ajax Product Filter
allows you to create and customize different product filters and add them to your shop page.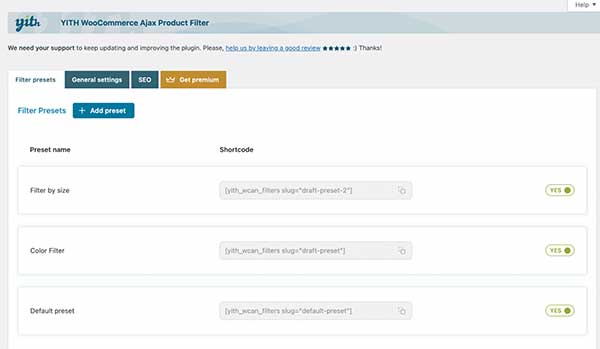 You can create different product filters and assign attributes that will make it easier for the users to find the right product they need from a sea of products.
PAYMENT PLUGINS
WooCommerce supports four types of payments systems - WooCommerce Payments, Direct Bank Transfer, Check Payments, and Cash on delivery. WooCommerce Payment at the time of this writing is only supported in 18 countries. So, if you need to include different payment gateways on your WooCommerce store, you need to have a payment gateway plugin installed.
Stripe Payment Plugin for WooCommmerce

Stripe Payment Plugin for WooCommerce
allows you to integrate your Stripe account with your WooCommerce store and add the Stripe payment gateway to your checkout. This gives your store the capability to accept payments using different payment methods.
There are a lot of payment methods supported by the plugin including credit cards, debit cards, etc. In addition to these widely used payment methods, this payment plugin also enables you to add local payment methods like SEPA, Klarna, Sofort, iDEAL, etc.
PayPal Express Checkout Payment Gateway for WooCommerce

PayPal is another popular payment gateway method that you can use for your website. To integrate your store with PayPal, you can use this
PayPal plugin
. The plugin not only allows you to add a PayPal payment gateway to your store but also helps in making quicker and faster conversions.
PayPal Express Checkout Payment Gateway allows you to add an express checkout button to your cart page so that the users can complete the checkout process with fewer clicks.
This payment gateway plugin also supports local payment gateways as well.
CUSTOMER SUCCESS
Businesses should always have their ears wide open for their customer grievances and any other questions that they might have. There should be a clear way established on the website that can help the customers reach out to you.
Tidio - Live chat, Chatbots & Email Integration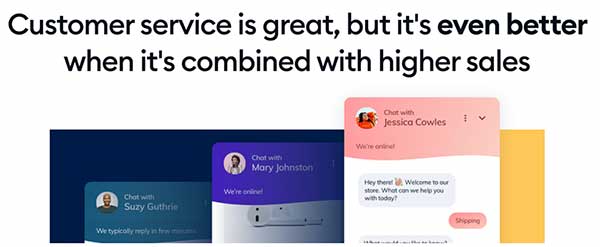 Customers feel very comfortable when they have direct access to the support team of the products or services they are buying. Providing great support is key to getting new and returning customers to your store.
Tidio
allows you to integrate a channel through which your customers or potential customers can reach out to you. Using the plugin, you can integrate a chatbot, a live chat widget, or an email with which you can directly address your customer's queries.
To get all the features of Tidio, you will need to create an account with them. From the Tidio panel, you can customize the look of the chat widget. The live chats can be managed from the Tidio panel.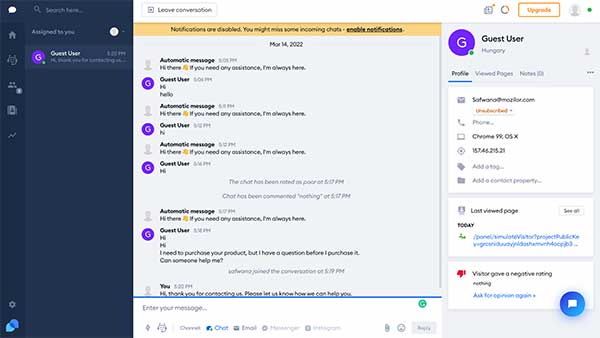 Tidio panel allows you to manage all the contacts on your website and gives an analytics report of all your communication with your customers to drive insights.
CONVERSION OPTIMIZATION
Even if you have a lot of traffic coming to your website, you may be having low conversion rates. This can be indicative of a complicated checkout process, people abandoning carts at checkout, navigational issues on the website, etc. Below are some of the plugins that can help in improving conversion rates on your website.
Direct Checkout For WooCommerce

Direct checkout for WooCommerce
helps you in minimizing the clicks and steps needed to complete the purchase process. You can remove the steps that may be unnecessary in your store while a customer is making a purchase.
The plugin will allow you to completely skip the "add to cart" step and take the customer directly to checkout. This will make the checkout process simple and the distance between consideration and decision making is reduced significantly.
The plugin also allows you to remove the unwanted fields from the checkout page so that the customers only have to spend time filling the forms with the necessary details. Of course, you need to figure out which is the best checkout flow for your store and experiment to get maximum conversions.
YITH WooCommerce Ajax Search

One of the crucial factors that affect the conversions on your store is the discoverability of your products. Especially when you have a lot of products in your store, users need to be able to easily find exactly what they need.
YITH WooCommerce Ajax Search
plugin helps you in creating a simple search box on your WooCommerce website. Customers can type in the keyword and find the products directly from your store. This reduces the time that they spend searching for different products in your store and help them narrow down their options so that they can make decisions more quickly.
Conclusion
The above list is by no means an exhaustive one. There are a lot of other plugins that deserve to be on the list and within each category. You can
check and compare
which plugin works for you the best. There are more categories depending on the store you own. We will keep updating the list as we find more useful plugins for you in the future.
In the meantime, do you think we have missed any plugins? Which plugins are your favorite and can't imagine running your store without? Let us know in the comments.